Archives News
What's going on in the Viatorian Community Archives for the United States Province
November 18, 2016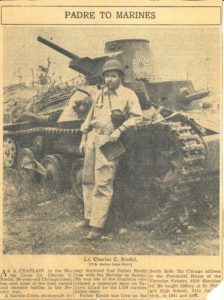 The Viatorian Community Archives received this news clipping from Mr. Jim Dittrich who found it in his Uncle Tom Kenney's belongings.  Thankfully, he did not throw it out!  It is a nice addition to Fr. Charles Riedel's collection here.
Unfortunately, the newspaper source and date published is unknown.  However, the article states he was 30 years old at the time, so that makes it sometime in 1943.  Fr. Riedel served as a military chaplain from 1941-1944.
The news clipping prompted a Veteran's Day article from the Viatorian Director of Communications, Eileen Daday.
Read more about his life in his obituary.
---
November 03, 2016
Today is a special day in the history of the Viatorian Community!  On Nov. 3, 1831, Archbishop Gaston de Pins of France approved and accepted the institution of the Clerics of St. Viator – this after his initial disapproval.
Fr. Louis Querbes, the founder and visionary of the community in Vourles, perceived this as divine providence.
The international Viatorian Community today includes brothers, priests and lay associates, just as Fr. Querbes envisioned over 185 years ago.
---
October 13, 2016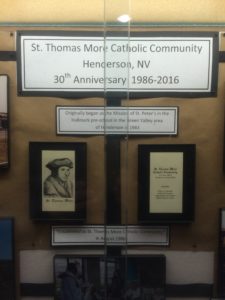 St. Thomas More Catholic Community in Henderson, NV is celebrating its 30th anniversary this year.  In 1986, the Diocese of Reno-Las Vegas established the parish under the name of St. Thomas More.  Since 1983, it was previously known as the Mission of St. Peter's.
The exhibit shows important events over the years – the groundbreakings and dedications of new buildings as well as the Viatorian religious who pastored and assisted the Catholic community.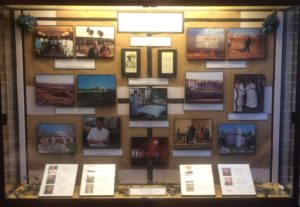 The parish began with 36 families and has grown to more than 6,000 today.  Congratulations to this vibrant Viatorian community!
---
September 08, 2016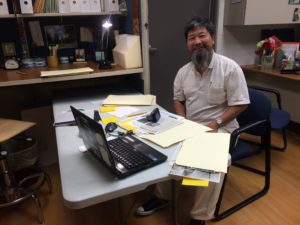 At the end of August, the Province Center had a visitor for three days from one of our early foreign missions — Cheng Sung (aka Jones) from Taiwan.  Jones was a former student of Fr. Simon Lefebvre at Wei Tao (St. Viator) High School in Taichung back in 1967 – 1971.
He came to the United States to visit Fr. Lee, as he and his classmates called him, as well as research in the Viatorian Community Archives about the mission in Taiwan.
Read more about his visit here.
---
August 12, 2016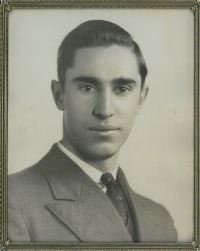 Br. William Sharp, CSV, passed away in August of 1939 at the age of 21.  For 77 years, the Viatorian Community Archives never had a photo of him — until now — when Fr. Charlie Bolser, CSV, met Br. Sharp's sister at the Benedictine Monastery in Chicago.
Sharp's sister, Sr. Ann Sharp, OSB, age 95, shared fond stories and photographs of her older brother with Eileen Daday, Director of Public Relations and Communications for the Viatorians.
We are grateful to get to know Br. Bill through Sr. Ann's memories.
Read and see more photos here.
---
July 08, 2016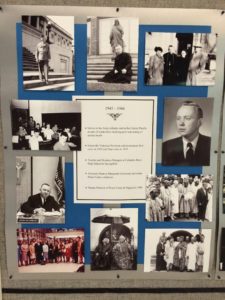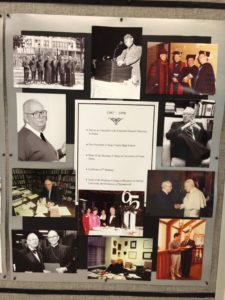 Click on each photo to enlarge.
---
June 15, 2016
A photo montage celebrating the life of
Fr. Kenneth E. Yarno, CSV
---
June 02, 2016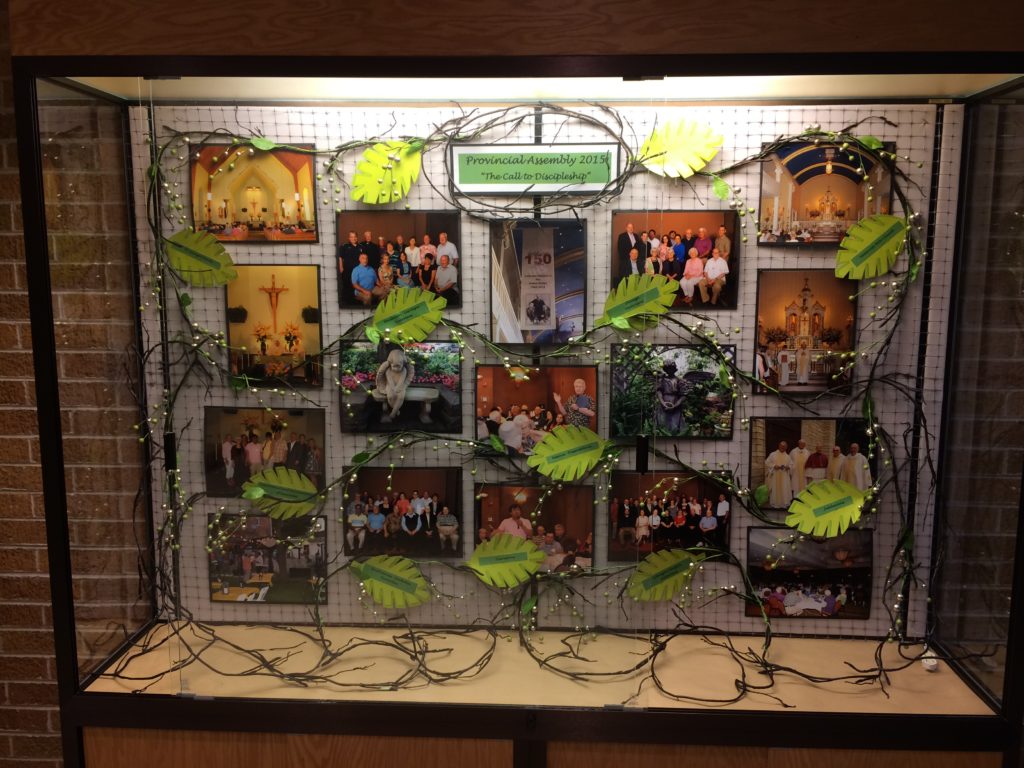 In preparation for this year's Provincial Assembly, a new exhibit is on display at the Province Center in Arlington Heights.  The photos showcase the activities from the assembly held last year in Bourbonnais — where the Viatorians began ministering in the United States 150 years ago.
Both St. George and Maternity BVM churches in Bourbonnais hosted the Viatorians with Mass, an associate commitment/re-commitment ceremony and a jubilarian celebration of religious life and priesthood.  Meetings, presentations and discussions on the topic of 'discipleship' were held in the hotel conference rooms.
Group photos of Viatorians that attended from the three regions — Arlington Heights-Chicago, Bourbonnais-Kankakee and Henderson-Las Vegas — are also on display.
This year's Provincial Assembly will be held in Arlington Heights from Jun. 21-23.
---
March 29, 2016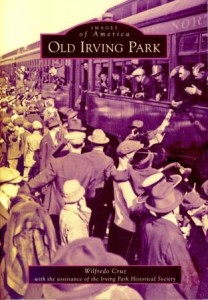 Fr. Charlie Bolser, CSV, donated the book titled Images of America: Old Irving Park to the Viatorian Community Archives last week.
Published by Arcadia Publishing in 2013, this book series celebrates the history of neighborhoods, towns and cities across the country through the use of archival photographs.
St. Viator Church in Chicago is featured in 3 photographs on pp. 52-53.
If you see anything mentioning the Viatorians, please pass it along to the archives.  Thanks so much.
---
January 27, 2016
A photo montage celebrating the life of
Fr. Robert E. Erickson, CSV,
who was buried on
Sat. Jan. 23, 2016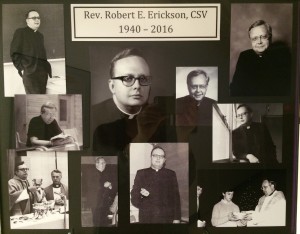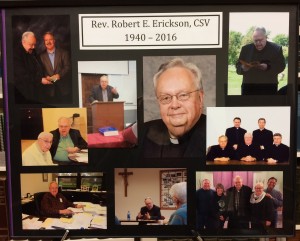 Click on any image to enlarge
Read more about the life and ministry of Fr. Erickson in his obit.
---
---